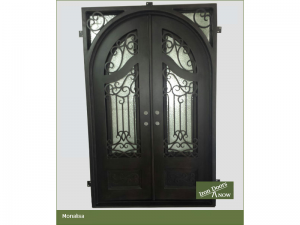 Wrought iron may not be the first material you think of when considering new doors for your home, but this classic material has stood the test of time–and for good reasons. There are many benefits that make this material a great option for your home. If you are considering changing the look and feel of your home, exterior wrought iron doors could be a great choice.
Durability
The most obvious benefit of installing exterior wrought iron doors on your home is their durability. Wooden doors can swell and shrink with the weather, aluminum doors dent easily, and vinyl or other plastics are flimsy and can simply fall apart. Wrought iron holds up to the weather and to any abuse your family can lob at it. Install a wrought iron door, and it will be in your home and look great for many, many years.
Attractiveness
Wrought iron doors can add elegance and a classic look to your home's exterior. With endless styles and design options ranging from historic to modern, chances are there is an iron door that is the perfect complement to the front of your home. A stylish wrought iron front door is a great way to make a strong first impression on your neighbors and guests.
Resale Value
An added bonus to making your home more attractive is making your home worth more money when it comes time to sell. Curb appeal is a large part of your home's resale value. Wrought iron doors add durability and a striking appearance to your home that will appeal to potential buyers.  An investment in iron doors for the front of your home is an investment in your whole house.
Security
One of the most popular reasons for choosing wrought iron for your exterior doors is the added security they provide to your home. A potential intruder can easily wedge open a wooden door, but it takes much more than that to get past wrought iron. Unless your burglar came equipped with a blow torch or a bulldozer, there's virtually no way that they are going to get past your exterior wrought iron doors and into your home.
Wrought iron is a material that brings to mind images of the industrial revolution, of human progress and some of our greatest buildings we've ever constructed. When you add exterior wrought iron doors to your house, you can capture some of that essence in your home. Visit the website for more information.